Overview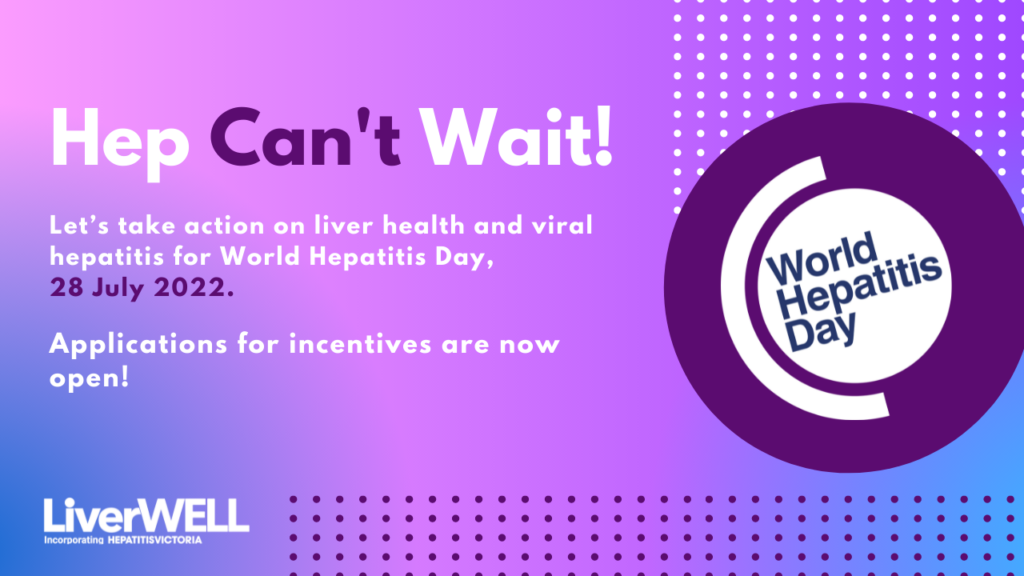 28 July is declared World Hepatitis Day (WHD) – one of nine urgent International Health days highlighted by the World Health Organisation and partners across the globe:
WHD highlights the urgent action needed by governments, health workers and the community to prevent deaths from viral hepatitis through eliminating hepatitis B and C by 2030.
Across the country and globally we need to continue to raise awareness and reduce the stigma and discrimination of the condition which affects close to 500,000 Australians.
We work with a range of partners to host events, including events for the general public, researchers, scientists and clinicians and "at risk communities" where the prevalence of viral hepatitis is high.
Why July 28?
The date of 28 July was chosen for World Hepatitis Day (WHD) in honour of the birthday of Nobel Laureate Professor Baruch Samuel Blumberg, discoverer of the hepatitis B virus and developer of the first hepatitis B vaccine based on research of the Australia antigen.
2022 World Hepatitis Day Incentives
For World Hepatitis Day 2022 LiverWELL are offering incentives of up to $1000 to assist organisations provide virtual or face to face events and activities for their communities.
Please keep the safety of your community in mind when submitting your application and be mindful of potentially needing to implement an alternative plan should restrictions change.
Your answers to the following questions will assist us to most effectively distribute limited funds, please do not hesitate to contact us to discuss your application.
The maximum grant amount is $1000.
If you have any questions please contact chloe@liverwell.org.au
Applications close 5pm on Friday 3 June 2022.
Thank-you for your application and support of World Hepatitis Day!
Apply now at bottom of the page.
World Hepatitis Day 2022
The global theme for World Hepatitis Day 2022 is 'Hep Can't Wait'
Why does this matter:
Currently in Victoria hepatitis C treatment uptake is not on track to meet the National Hepatitis C Strategy target of 65% treatment uptake by 2022. Treatment numbers are declining over time
The National Hepatitis B Strategy target of people engagement in Hepatitis B care 50%. Currently in Victoria only 23.1% of those living with hepatitis B are engaged in care
Liver cancer is the fastest known increasing cause of cancer death in Australia.
#WorldHepatitisDay
Calendar of Events
The 'Hep Can't Wait' message is being shared with our communities to ensure hep C treatment increases and people with hep B are engaged in care. There are many activities around World Hepatitis Day being run both by LiverWELL and other organisations. Please send your event details to be included in this listing.
Supporting community events across the state
These organisations have received support from LiverWELL in 2021 to raise awareness of World Hepatitis Day:
Gunditjmara Aboriginal Cooperative – Healthy Liver Day
Fatemiya Cultural Centre – Education sessions for Afghan women.
HealthWorks coheath – Develop healthy soup recipe book for clients and a week of providing food based off this with information available
cohealth – Innerspace – BBQ for community members for awareness raising
Chinese Cancer and Chronic Illness Society of Victoria Inc – Two multi-lingual information sessions on the importance of prevention and screening on viral hepatitis and liver disease for the Chinese community.
Rumbalara Aboriginal Cooperative – Liver health morning tea and creation of a resource regarding the experience of treated patient
Salvation Army – Full day of events including a healthy BBQ lunch, guest speakers, a health promotion stand and more.
Launch Housing, Elizabeth Street Common Ground – Information displayed and testing campaign to coincide with the opening of their Hepatitis C clinic.
Cohealth- Collingwood, Carlton, Sunshine, Laverton, North Melbourne – 4 educational events for 4 different culturally and linguistically diverse communities.
Barwon Health Liver Clinic – Street and community activation even
Northeast Health Wangaratta – Information session including for staff and lunch for frontline workers.
Vietnamese Australian Foundation (VAF) – Open talk about liver health and outdoor activities and refreshments
Apply Now for LiverWELL World Hepatitis Day 2022 Incentives
LiverWELL World Hepatitis Day Incentives 2022 Application Form
"*" indicates required fields