LiverWELL would like to extend a huge thank you to those who attended the first sessions of the My Liver Health program for 2022 – with 90 participants across 5 sessions. The program was a huge success and we were delighted to receive positive feedback from our participants and speakers. Some of the key takeaways from each of the sessions were on the importance of community, making good choices for your liver, and taking small steps to improve your liver health.
Our Health Promotion Knowledge Officer, Pearl Prabal, championed this program and we were happy to see the sessions run smoothly, with great insights being shared by the speakers. Below we have attached some word clouds from each session, where participants entered their key takeaways from the session.
We will continue to improve and expand the sessions this year, so stay tuned!
Session 1) Health Literacy & Goal Setting: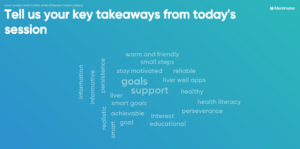 Session 2) Eating Well: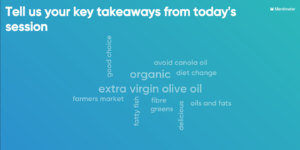 Session 3) Getting Active: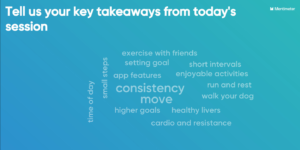 Session 4) Drink Aware: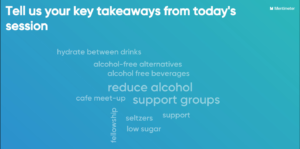 Session 5) Feeling Well: