Some of our LiverWELL team headed north last week to attend the 13th Australasian Viral Hepatitis Conference. The conference is a platform for presenting innovative research findings and better management across the Australasian viral hepatitis sector.
We also met with wonderful colleagues from our partner organisations, to network and facilitate sharing of ideas so that we can all maximise our impact.
Our presentations focused on:
Sharing liver health resources with youth
In 2021 LiverWELL developed a Healthy Living Guide and poster for young people, to encourage healthy lifestyles. We consulted younger volunteers at our organisation for input on the content, and shared through our social media pages. These platforms also encouraged them to post liver health content of their own.
Delivering drug use harm-reduction messages with colourful, graphical, fit-pack stickers and comics
LiverWELL produced colourful fit-pack stickers and comics to help circulate plain language statements and facts about hepatitis C to injectable drug users. Each sticker linked to a web comic with more discussion around liver health and viral hepatitis.
Reconfiguring Chronic Disease Self Management programs for better management of viral hepatitis and other chronic liver conditions 
The My Liver Health Coaching Program is a chronic disease self-management (CDSM) program, designed for people with chronic liver diseases, viral hepatitis and liver health concerns. The program delivers workshops on topics like health literacy, goal setting, exercise, nutrition, sleep, mental health, alcohol, and management of medications and other drugs. It includes lived experience and specialist speakers, expert knowledge, tips and discussion activities.
Hepatitis B Education and the Australian Migrant English Program
LiverWELL has been conducting education sessions with the Australian Migrant English Program (AMEP) in order to connect and share information regarding hepatitis B with culturally and linguistically diverse (CALD) communities, or priority/at-risk populations.
The LiverWELL App was designed with input from both users and health professionals, this free app is of assistance for people living with viral hepatitis and other liver conditions. It helps people improve their liver health, navigate the steps involved in ongoing care, and stay engaged with healthcare professionals.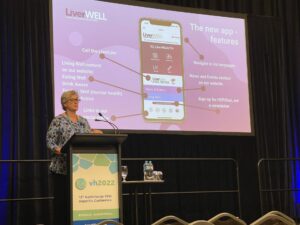 The conference featured a screening of the Ilbijerri Theatre Company's Viral – Are You The Cure?, a deadly short film about smashing Hepatitis C. Originally staged as a play that toured in 2018 and 2019, VIRAL is a short film made with Indigenous actors and perspectives about navigating hepatitis C.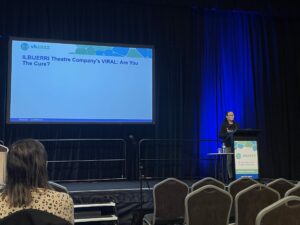 Conference News:
Vital Voices – Personal Stories of Hepatitis C, Treatment and Cure.
The Vital Voices website recounts personal stories of treatment for hepatitis C. The website has two aims: to support people living with hepatitis C in thinking about and/or having treatment, and to inform the public about hepatitis C and what can be done about it.
NPHN – Consensus Statement on the Management of Hepatitis C in Australia's Prisons
The Consensus Statement on the Management of Hepatitis C in Australia's Prisons by the National Prisons Hepatitis Network (NPHN) includes clinical, consumer, public health, and organisational stakeholders with a shared commitment to facilitating best practices in viral hepatitis services for people in Australian prisons.
The VH2022 Action Plan was launched, developed by Hepatitis Australia, ASHM and other key health bodies. It aims to support and guide Australia's elimination of hepatitis B and hepatitis C by 2030.