How can the My Liver Health Program help you?
Equip yourself with knowledge and tools to take control of your own health journey.
Learn to identify good sources of health information.
Learn the latest on healthy lifestyle interventions from expert speakers.
Hear our lived experience speakers share their personal experiences with lifestyle inventions.
Unpack tips to better manage your liver health.
Learn to set realistic health goals and put your health goals into action.
Engage in productive discussions with other participants and grow your support network.
Navigate through key areas of intervention with short topic-focused sessions.

Next Program: 15-29 March, 2022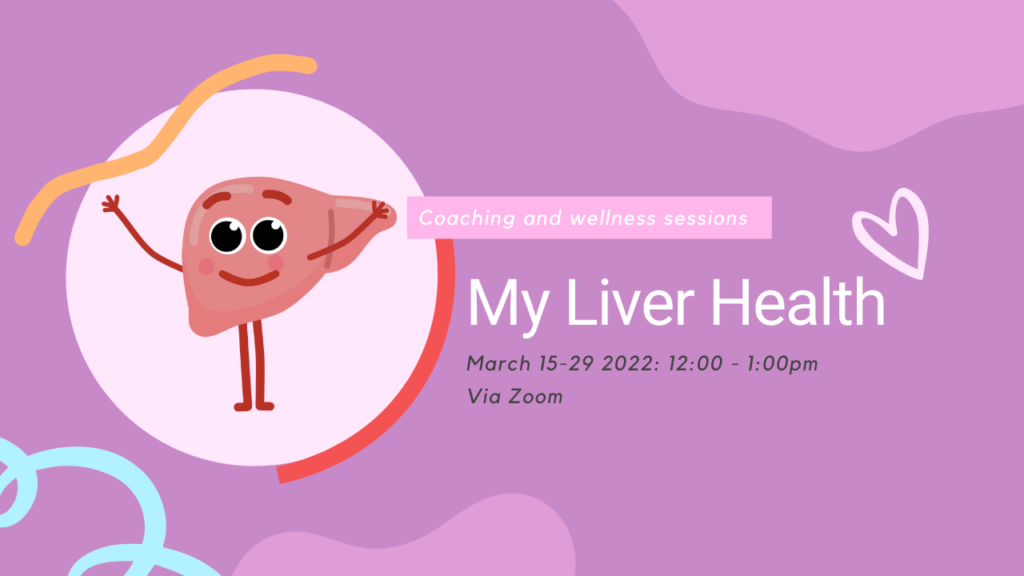 My Liver Health Program is comprised of a series of free 5 sessions covering:
Session 1: March 15 – Health Literacy and Goal Setting
Session 2: March 17 – Eating Well
Session 3: March 22 – Getting active
Session 4: March 24 – Drinking Aware
Session 5: March 29 – Feeling Well
Each session will run from 12 pm to 1 pm. You can register to attend a session of your choice.
Participants attending all 5 sessions will be in the running to win a lucky draw prize!
Register now through the links below!
Session Schedule
Our Speaker Bios
Getting Active – Shelley Lask
Shelley (she/her) is a personal trainer with nine years' experience in working with a weight inclusive approach through her business Body Positive Health & Fitness. With qualifications in both fitness and disability, Shelley is passionate about self-compassion, inclusive, evidence-based care and supporting people to enjoy moving their bodies in ways that are meaningful to them.
Feeling Well – Patricia Gallagher
Patricia Gallagher is Gallagher Psychology's Principal Psychologist and Director. Patricia is a Registered Psychologist who has a special interest in seeing adults and adolescents, as well as families and couples.
Drink Aware – Alexandra Tourney
Alex is a PhD candidate at the Centre for Alcohol Policy Research at Latrobe University. Her research includes the role of price in alcohol trends, with specific interest on low-cost beverages and the impact on consumption levels.
Eating well – Bec Stone
Bec is a qualified nutritionist, personal trainer and former national level athlete, who is passionate about educating and inspiring individuals to reach and maintain their optimal health. She is highly-skilled in using food as medicine and is passionate about all areas of nutrition. Bec is particularly interested in gut health, female hormones and sports performance, and weight management.
Goal setting and Health literacy – Chloe Pedley
Chloe is our Health Promotion Team Lead; she has lived experience with setting health goals and working to achieve them. In her spare time, she is a personal trainer who motivates people to achieve their health goals, one step at a time.
Health Literacy and Goal Setting
Session 1: March 15th
Learn all about how to set goals for your future using health related skills.
Eating Well
Session 2 – March 17th
Get tips on how to plan meals and create healthy dishes that will support healthy liver function.
Getting Active
Session 3 – March 22nd
Gain knowledge on how to get active with liver related diseases.
Drink Aware
Session 4 – March 24th
Learn more about how to drink responsibly with a liver related disease.
Feeling Well
Session 5 – March 29th
Get insight on how to keep your your emotional and mental wellbeing healthy.